Up until this point, my goal every day was simply to survive Rugby's high level of activity and his wacky responses to sight and sound stimuli.  He was extremely high energy, and between trying to tire him out and surviving his barking jags multiple times every day, I had my hands full!!
But with the introduction of tricks, Rugby and I were thoroughly enjoying playing around together!  The combination of physical activity and mentally challenging tasks made for a tired puppy at the end of each session!  It really didn't help with his reactivity to stimuli at all, but he seemed to be much happier in general, and that was worth a lot in my book!
The more we worked at having fun together, the more I started to see my little speckled and spotted puppy transform.  Because of our previous unsuccessful behavior modification work, I really felt that Rugby was a little sad about the idea of doing any formal training with me.  And because I was feeling burned out with that experience, I was ready to put formal work on the back burner and just have fun playing together.  I simply wanted to enjoy my dog and not feel like I had to be "working" on his behavior all the time!
I Had Created Something Neither One of Us Liked!
I had gotten to the point where I just didn't care about the wacky behavior any more.  It was what it was, and I didn't know if it would ever improve.  The tried and true methods I had used sure weren't working for Rugby, and I felt like I was creating a lifestyle for him where he must have felt like he lived in a straight jacket!  In an effort to keep him from exploding into a barking and running frenzy, I had been focused on trying to capture every trainable moment that I could.  But it wasn't working for us.  I was burned out and Rugby was bummed out.  The time had come to change my tactics, because I simply wanted us to have fun together and enjoy one another!
The Trick to Building Trust Was All in Training Tricks!
Doing some simple playing around with jumping and playing with some simple tricks was so much fun for both of us!!  I had zero idea what I was doing, but Rugby was all lit up and we were really enjoying our time together!  I got better leading him into the behavior that I wanted with bait, and he thought it was the most amazing thing ever in his whole little puppy life!  I made sure I didn't correct him for anything, and I saw him come alive!
I knew that if he was going to trust me, I was going to have to present myself as reliably predictable….every single time we worked together, no matter what kind of work that was.  Trust is built on predictable behavior from someone else.  I had already created an unhappy working environment for Rugby, and now I had to unravel that big ball of yarn!
Nobody Likes a Cheater!!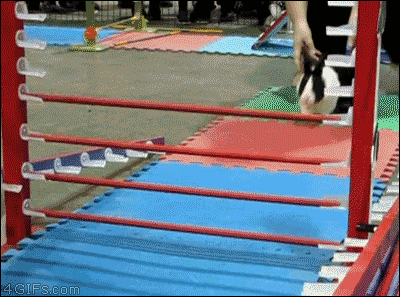 At some point in the process of playing together with tricks, the thought occurred to me that from Rugby's perspective, each of the tricks was like a self contained game, and they all had different rules for play.  He couldn't play the "Crawl" game the same way that he played the "Jump into Mama's Arms" game.  And because each of the tricks were a separate game, I decided that we both needed to stick to very specific rules for success in playing!
Think about it!  Why do we even play a game?  Isn't the objective to win?  Who wants to play games with someone who cheats at the rules?  And from Rugby's point of view, I saw that he didn't see me as someone who played fair.  He didn't trust me.  I had been consistent with what I had done, but without the basis of trust, and with more scolding than not, Rugby didn't want to play the "work" game on leash anymore.
Keep in mind, that throughout all this time, I honestly didn't have a clue that trust was the hiccup in our giddyup! I was working from the platform that all dogs trust humans unless abuse was involved, and Rugby didn't appear to have ever been abused.  Neglected perhaps, but not abused.
He was not fearful at all around any of us.  His overall body language was good and his attitude was good!  He didn't present as a wary dog who wasn't sure about life. The Rugby I saw on a daily basis was confident, happy and active!  He was just what you would expect to see in a dog who trusted.  I think that this is why it took me so long to figure things out.
I really do think he trusted me on some levels, but in my efforts to increase trust between us, I finally had to come to the conclusion that what I had been doing had created an epic fail, and instead of building bridges between us, I had been responsible for tearing those bridges down.  Instead of increasing the likelihood that Rugby would trust me when he was scared, by limiting his ability to feel safe and run from me, I had created a hole that we were both falling into!
Congratulations on Your Epic Fail!!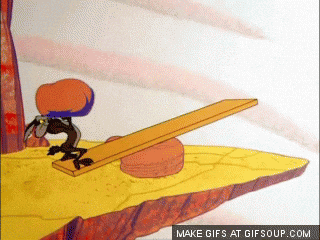 So I knew that I was going to have to change Rugby's opinion of what work with me was like.  Instead of focus on Rugby performing the tricks perfectly, I put my focus and goal into the simple experience of working together and having fun.  I absolutely refused to correct him at all, and actually said very little when we worked so that Rugby would be able to just think and focus on his part of things.  Anything spoken was happy and encouraging and I became more of a coach and less of a dictator in my approach.
Can't We Just Have FUN???
I created specific verbal and visual cues, and soon Rugby was producing specific behavior for me right on cue!  He had amazing focus with tricks, and he could problem solve at the speed of light!  However, when it came to learning new things, I noticed that he often reverted back to old behavior very quickly rather than try something new. I think some of that was fallout from our previous work.  He was afraid to try new things because he didn't want to do it wrong.
So it took some time and consistency without corrections for Rugby to realize that he had a free environment to experiment and try new things without consequences.  It was almost like his thinking process went like this:  "Hmmmm…..that's different.  I don't remember seeing that one before!  What is she doing now?  What?  What's that mean?  Huh?  <frustration starts> What do you want from me?!  I'm just a little dog with a small brain!  Okay, Rugby, calm down and think now.  Use your brain and think.  <Pause while thinking>  Okay, I give up.  I'm just going to lay down and roll over!  That usually gets me a snack!"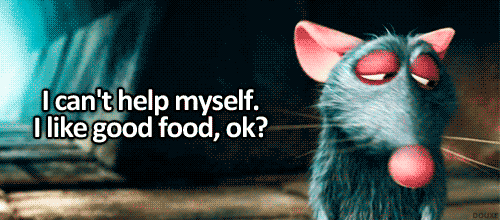 And what I noticed as we worked together, is that his antics of problem solving often just made me laugh.  And I couldn't be upset or frustrated or irritated or angry when I was laughing at him!  We often ended up snuggled together at the end of a training session, and from Rugby's perspective, that had to feel like a pretty good day indeed!
So I kept stacking up those days of wonderful experiences!  I just quit worrying about the things in Rugby that I couldn't fix and set my face to simply enjoy each day with my dog and create a good day for him with consistent fun and minimal corrections in our day to day.  He looked forward to our time together, and over time, started coming to me to ask me to work!  These were the important baby steps I was hoping to see!
And now I just had to figure out where to go from here!  How could I build on what we had started that was making a wonderful difference in our day to day life together?
To Be Continued…..
(

4

)
(

0

)