Living with my first rescue dog has been challenging on just about every single level.  I had so many incorrect assumptions about rescues when Rugby came to live with me.
My life for the previous twenty plus years had been deeply entrenched in the world of purebred Pembroke Welsh Corgis, and I had shown and bred my dogs.  I had become a bit of a breed snob, I freely admit that, but I had truly wonderful purebred dogs who were healthy and had amazing temperaments!  It was easy to become a snob about such terrific dogs!  My last Corgi had died in 2002, and for five years,  I wasn't sure I was really ready to ever go through the heartbreak of losing a much loved dog again.  At the end of five years, I was starting to think about life with a dog once again.
I had trained so many wonderful rescue dogs for clients, that I really didn't have too many objections to having one.  Growing up, our family dog was a rescued Australian Shepherd/Border Collie mix, and she was the world's best dog!  I knew I wanted to help a rescue dog if i could, and my heart was drawn to find a Pembroke Welsh Corgi rescue.  That seemed like a win/win, and my family agreed.  However, when it came time to consider another dog, I couldn't look past the steep stairs in our two story home at that time.  I really felt that owning a long backed dog with short legs was out of the question.  I would just be inviting back injuries on those stairs, and I couldn't do that to a dog.
So I started looking for just the perfect rescue dog, and having long legs was going to be part of the criteria!  After a short search, Rugby ended up being that perfect rescue dog for me.  And now, after ten years together, the old question of who rescued who….well, that's a question that's been a head scratcher to answer!  Both of us have come out on the good end of that deal, but it's been quite a journey to get where we are today!
I think the biggest hurdle I have had with Rugby has been in the area of trust.  I really do think that puppies come into the world trusting humans.  I think dogs are hardwired to trust humans.  Unless they are mistreated, I think they naturally like and trust humans.  So as humans, it's on our shoulders to not mess that up!
In Rugby's case, I honestly didn't know how many previous homes he had had when I first found him.  I only knew that a rescue had pulled him at the last minute from a kill shelter and he narrowly missed being euthanized, even though he would have been about six or seven months old at that time.  I knew that he had been in rescue at his current foster home for about two months, but beyond that, I had no information about my beautiful little puppy at the time of his adoption.
At the time that I brought him home with me, I also had no idea how his background would impact his ability to trust me.  I assumed we would have an adjustment period, and he would come to bond with me and learn to trust me.  I knew that training would help speed up trust, and also increase a tight bond to create a team between the two of us.  I expected that things would make good progress and that there wouldn't be any major hiccups in that plan.  That proved to be a very wrong assumption.  I understand that now.
Because of Rugby James,
I will never look at a rescue again
without understanding
what trust means to a dog!
In those tough early days, I was discussing Rugby's puzzling behavior with one of my dog training colleagues.  She told me that after 4 precious owners, a dog loses the ability to trust.  She said that at some point, they make a decision that humans can't be trusted and they just don't put forth the effort to trust, since they think that they will be abandoned again at some point in time.  I have absolutely no idea if that's a proven fact or just one dog trainer's opinion.  But you know how it is when you hear something.  It rattles around in your brain and makes fear seem larger than life!
By this time in my life with Rugby, I knew that I was at least his fifth owner, and the thought of that trust statement being true, scared the life right out of me!  Here I was with a puppy only a year old, and I was hearing that he might never be able to trust me??  And I would have him for probably thirteen more years???
The thought truthfully struck terror into my heart, because as a trainer, I knew that I wasn't going to make much progress working with Rugby if he didn't trust me. Trust is really one of the few things that a dog has to give to a human, and when there's no trust, a dog doesn't want to work for a human, because he simply can't.  Trust is absolutely critical to training and moderating behavior with a dog.
As I thought about that and what it might mean for my life with Rugby, it sure did explain some of his odd behavior to me!  There were times with him, where it was almost like someone turned off the lights in him.  It was obvious and it was a pretty consistent pattern with common triggers.
We would be going along nicely, doing life, and something would trigger his anxiety or fearful responses, and immediately he went into his patterned coping behaviors.  For Rugby, his coping behaviors were repetitive, almost OCD behaviors that he repeated multiple times a day for long stretches of time.  As I worked to break those patterns of behavior, I had always been puzzled about why he would look right at me….clearly thinking about things…..pause and consider….and then it was almost like he would shake his head no, and continue right on with his coping behavior and completely check out.
It was clear that humans in the past had failed him in some form or fashion, and it was obvious that he had decided that his coping patterns were what brought comfort and relief to his fear and anxiety.  I'm honestly not sure that he even really knew that a human could or would help him.  He never looked to me for help when he was fearful or anxious.  He just kept running and barking, dodging all help and capture.
It seemed like in that split second….
when he was paused and thinking….
….he made the decision…
that I couldn't be trusted…
and he was on his own.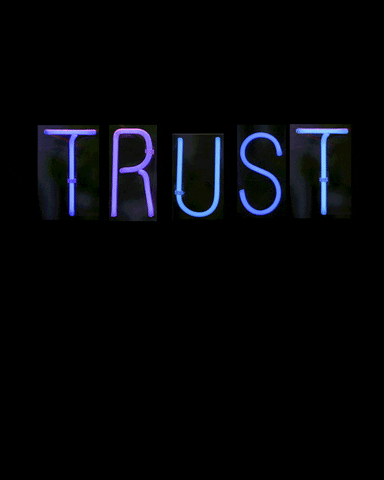 Video by Giphy.com
Despite using every training tool I already knew, and learning many new tools to help him, he consistently and completely ignored any and all of my efforts.  It seemed impossible to help him learn a new way to cope with his fear and anxieties.  It was crystal clear to me that he felt as if his coping behaviors were his only safe way out.  I couldn't calm him enough to help him learn new behaviors, because anytime his anxiety was triggered, he checked out and we were done.  I couldn't create a small enough trigger to barely get some of his negative response because even small triggers produced consistent huge wild responses just as if something major had happened.  It was all or nothing with my little speckled and spotted puppy who was an absolute hot mess in fur!
In truth, I have no idea how these coping patterns developed.  There could be many reasons for them.  For example, as a very young puppy, he could have been left alone in a home or yard with scary things going on around him and no human to help comfort him and show him that he was safe.  He could have had humans scold or spank him over and over for being reactive and so he learned to avoid the correction and the humans who came along with those corrections.  He could have been a stray who learned that barking and running away always worked when something scary happened.  It could honestly be a combination of all of those things, or many other contributing factors as well.  I'll never know, because Rugby spent his first eight or nine months living somewhere else.  What I do know, is that Rugby seemed to act as if he didn't think he should or could expect a human to help him.  He acted very much like he knew that only he could save himself.
It was absolutely heartbreaking to me.  It made me so very sad to think of what life was like from his perspective.  Here he was in yet one more new home.  Brand new owners who were complete strangers to him.  Brand  new sights and sounds.  Brand new house rules.  Completely new family.  Brand new routine.  Brand new neighborhood.  Brand new neighbors.  Brand new home and furniture.  Brand new food and bowls.  Completely new smells.  No fence at this house, so no fun off leash play for a super high energy puppy.  Sleeping in a crate.  And no other dogs in our home like he'd had at the shelter, rescue or foster, but there were two cats in our home who hated him!
He had been well cared for in the rescue.  Really high quality food, and regular meals.  But what if he hadn't received that in his previous homes?  What if he'd had to skip meals or gone without water for long stretches of time?  What if he'd had to fight to keep from going hungry?  What if he'd been a stray on the streets and had experienced humans chasing him off a garbage can that might have been his only meal in a few days? The thought of just how brave he was in facing an entirely new life for himself brought me to tears more than once.
He had faced more terrifying things in his short eight or nine months than I had in all of my many years of life!  I understood how the world worked and poor Rugby was at the mercy of the humans calling all of the shots for him in his life.  He was just a baby to have already experienced so much "life!"  I couldn't fail him.  I just couldn't!
To be continued…..
(

11

)
(

0

)